Chillers - Cooling Towers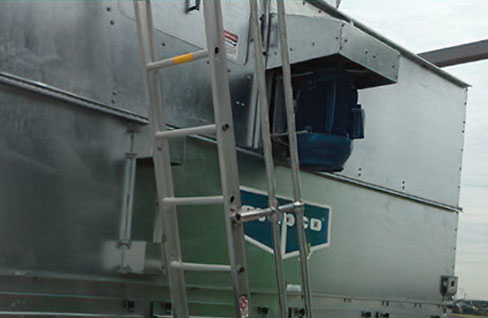 Aircon Mechanical Systems Inc. offers a wide selection of chiller options for any commercial/industrial application. The majority of high-rise residential buildings today utilize centrifugal chillers as their main source of in suite air conditioning. The chillers that were originally selected are typically oversized as well as inefficient in part load operation. We offer the latest technology with frictionless oil free chillers to replace the old high maintenance machines. Here are few advantages of the new frictionless technology:
Outstanding energy efficiency
Totally oil-free operation/low maintenance
Exceptionally quiet operation
Compact
Environmentally responsible
Our full service project management will take care of all aspects of the job from design and full retrofit to detailed incentive applications. We also offer extended warranty on all parts and labour and a full maintenance package.
Combined with incentives offered by the Ontario Power Authority and the energy efficient operation of the frictionless chiller, the replacement of original chiller or converted chiller makes for an attractive Return on Investment, not to mention the decreased cost of maintenance.
We have experience with the service and installation of the following manufacturers:
Carrier
Trane
York
Smardt
Artic Air
Mcquay
What is the phase-out schedule for HCFC refrigerants? 
Existing Regulations
Canada has guaranteed phase-out level of HCFC refrigerant types through the Ozone-depleting Substances Regulations, 1998, under the Canadian Environmental Protection Act, 1999, imposing the Montreal Protocol reduction schedule on each person engaged in these activities.
Relative to the current baseline that has been in place since 1996, Canada had agreed to reduce its HCFC consumption according to the following schedule:
Reduce by 35 % by 2004;
Reduce by 65 % by 2010;
Reduce by 90 % by 2015;
Reduce by 99.5 % by 2020;
100 % elimination by 2030.

1260 Journeys End Circle, #21
Newmarket Ontario
L3Y 8Z7
Newmarket 905.853.7155
Toronto 905.887.7359
Fax 905.853.2680