Energy Conservation and Strategic Planning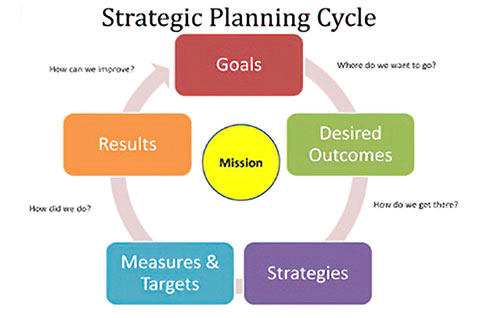 Trinity Energy Innovations specializes in Energy Conservation and Strategic Planning.  Energy Conservation is most definitely the primary goal of our clients to improve their overall operational efficiency.  Strategic Planning is imperative to optimize the chances of success.
A Strategic Plan looks at all the things your organization could do to improve its operational efficiency and then narrows it down to the things that are actually important doing with best return on investment in mind.  A Strategic Plan also helps the organization to determine where to spend time and money.
But, how should an organization approach Strategic Planning?
Developing a strategic plan might seem like an overwhelming process, but if you break it down, it's easy to tackle. Here's our five-step approach:
Create and produce the client's facility baseline through the usage of our Energy Audit and Assessment service.
Help the client to set the short- and long-term goals based on Assessments produced.
Produce the client's expected results with the implementation of different Energy Conservation Measures as well as identify and maximize incentive opportunities available for the projects.
Strategize, plan and implementation of Energy Conservation Measures through our Design Build, Engineering and Project Management services.
Ensure that the results achieved with the implementation of the different Energy Conservation Measures are the ones expected. These measurement and verification can better be achieved by using services such as our Energy Management and Building Automation 24 hour remote monitoring services.
Our Energy Conservation and Strategic Planning program is designed to provide you with major funding and technical expertise to help you.
Identify and provide you with an energy study to capture your best savings opportunities.
Upgrade and modernize your buildings mechanical systems not only for energy efficiency, but also for enhanced productivity, product quality and reliability.
Follow the project through to its final stage by making all necessary applications for energy incentives on your behalf and successfully completing the process to ensure the maximum energy incentive funds are received.
From there we will take charge of your energy through our 24 hour remote equipment and energy monitoring so that your savings will continue to grow annually.
We will provide you and key staff with the necessary tools to familiarize yourself with your new equipment. Also through our continued support and BAS training, along with accurate , up-to-the-minute data about your energy use, you can stay informed and responsive.
We pledge to create a real, sustainable competitive advantage through unsurpassable energy management practices.
Businesses across Ontario can benefit from an array of energy programs offered throughout the Province. Currently there are beneficial Hydro and Gas energy-efficiency programs to assist organizations from the smallest of retail stores to the largest industrial complexes.
Through these selected products and services we can assist you with:
All Energy Audits/Assessements Levels
Engineering
Design
Energy management
Building Automation Control Systems
Gas Monitoring Systems (MSR Canadian Distributor)
Power conditioning devices (KVAR® EC Distributor)
High Efficiency Boiler Systems
Highest EER/SEER Roof-top HVAC Systems
ERV, HRV and Make-up Air Systems
Variable Speed High Efficient Chillers
Variable Frequency Drive (VFD) Circulation and Booster Pumps Systems
Custom Manufacturing of A/C and Heat pumps - Air-conditioning & Heat Pump Systems
Let Trinity Energy Innovations be the absolute resource for all your energy savings needs.

1260 Journeys End Circle, #21
Newmarket Ontario
L3Y 8Z7
Newmarket 905.853.7155
Toronto 905.887.7359
Fax 905.853.2680